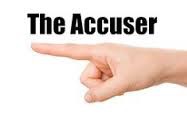 STRATEGY for DISHONOR
When the religious leaders Accused Jesus of having a Devil or Demon, he did not respond NICELY.  Some even said he was Mad/
John 8:48
Then answered the Jews, and said unto him, Say we not well that thou art a Samaritan, and hast a devil?
Jhn 10:20 And many of them said, He hath a devil, and is mad; why hear ye him?
John 8: 49
Jesus answered, I have not a devil; but I honour my Father, and ye do dishonour me.
So you did not want to get in a War of Words or Accusations with Jesus/
He Turned the conversation around and Pointed it back on those Accusing him.
John 8:44
Ye are of your father the devil, and the lusts of your father ye will do. He was a murderer from the beginning, and abode not in the truth, because there is no truth in him. When he speaketh a lie, he speaketh of his own: for he is a liar, and the father of it.
So here is a very interesting Strategy
If you are being Accused by Lairs who are calling you a devil/ saying your confused, or Mad, etc then the Strategy is to Point the Figure Back at your Accusers.
Accuse them to the Same Extent that they are accusing you. Just Point the Figure Back to them.
You do not need to say anything in your own defense other then NO I DONT have a devil, but you are Dishonoring me/
When someone is Dishonoring you, they are defaming your Character as a Person, so you do not take this Lightly, you Accuse them back with whatever the Holy Spirit gives you.
See the Accuser is the DEVIL, who is accusing you, the SON OF GOD/ He is Dishonoring the SON OF GOD, who you got Born Again to be.
So this is all ABOUT HONOR/ You do not allow dishonor to continue.
JESUS Confronted it/ and Dealt with it Straight on. Read John Chapter 8
Ms Terry Mosley
2017
Psa 105:15 Saying, Touch not mine anointed, and do my prophets no harm.
57 Responses to "STRATEGY for DISHONOR"